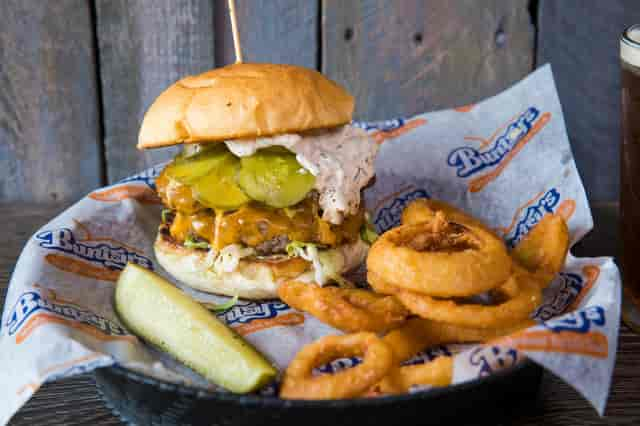 Adult Refreshments
Follow Us
Receive updates on special events, new menu items, menu reviews, and more!
Adult Refreshments
Wine List
WHITE & SPARKLING WINES
LAMOREAUX LANDING SEMI-DRY RIESLING [NEW YORK] $8/30
Crisp aromas and flavors of mandarin orange and nectarine.
BENVOLIO PINOT GRIGIO [ITALY] $7/26
Rosewater and lychee on the nose, apple and pear flavors on the palate, with a refreshingly crisp and clean finish.
SANTA RITA 120 SAUVIGNON BLANC [CHILE] $7/26
Herbal aromas and flavors mingled with white flowers and fruit.
ESTANCIA UNOAKED CHARDONNA [CALIFORNIA] $7/26
Aromas of pear, orange blossom and fresh citrus flavors with lean, crisp acidity and fruit on the palate.
CONSENTINO CHARDONNAY[CALIFORNIA] $8/30
Richly textured with balanced acidity and flavors of poached pear, vanilla bean and tangerine with a soft, creamy finish.
MACHIO PROSECCO[ITALY] (187 SPLIT) $7
Captivating sparkling wine, soft, and round, with nuances of peach and almond.
RED WINES
THREE THIEVES PINOT NOIR [CALIFORNIA] $7/26
Raspberry and juicy cherry flavors with hints of berry jam and toasty oak.
BLACK INK RED BLEND [CALIFORNIA] $8/30
In a celebration of decadence, juicy blackberry cobbler meets smoky licorice with a hint of spice.
BODEGA NORTON MALBEC [CALIFORNIA] $7/26
Lush, velvety tannins and rich fruit. Aromas and flavors of black currant, black cherry, ripe plum and spice.
DRUMHELLER CABERNET SAUVIGNON [WASHINGTON]$8/30
Flavors of cola, ripe cherries, fresh blackberry, and cinnamon with a delicate texture.
- HOUSE WINES -
PINOT GRIGIO - CHARDONNAY - MERLOT
CABERNET SAUVIGNON
Major League Boozey Shakes
CHOCOLATE, VANILLA AND STRAWBERRY SHAKES AVAILABLE
Buntsy's VIP Wine List
SQUEALING PIG SAUVIGNON BLANC [NEW ZEALAND] $34
Passionfruit and herbaceous aromas on the nose. On the palate, it's crisp, with citrus flavors and has a long finish.
SONOMA CUTRER CHARDONNAY, RUSSIAN RIVER [CALIFORNIA] $40
Bright fruit aromas of kiwi, apple and white peach are followed by notes of toasted nuts and stone fruit, with touches of sweet oak and honeysuckle.
DIORA PINOT NOIR[CALIFORNIA] $45
Rich and opulent, a robust palate of dark fruit flavors, and a long, memorable finish.
BLACK STALLION CABERNET [NAPA VALLEY] $45
Aromas of blackberry, black cherry and toasty scents; concentrated on the palate with bold, velvety flavors of cassis, plum, blackberry and dried apple.
THE STAG CABERNET SAUVIGNON, NORTH COAST [CALIFORNIA] $36
Full-bodied wine offering rich layers of lush fruit and silky, well-integrated tannins. The mid-palate is juicy with blue fruit, mocha and spice flavor.
BRAZIN OLD VINE ZINFANDEL, LODI [CALIFORNIA] $38
Intense smoky, meaty aromas lead to thick toast and spice flavors in this full-bodied and very oaky wine.
BEER
DRAFT 16 OZ PINTS / 22 OZ TALLS
LABATT BLUE LIGHT*
COORS LIGHT*
MOLSON CANADIAN
YUENGLING*
GUINNESS
ANGRY ORCHARD
BLUE MOON*
GENNY SCOTCH ALE
TRIPHAMMER IPA*
GREAT LAKES CHRISTMAS
FAT TIRE
BUD LIGHT
LAGUNITAS IPA
GENNY SCHWARZBIER
SAMS SEASONAL*
SIERRA CELEBRATION IPA
* DRAFTS AT BACK SERVICE BAR
BOTTLE
LABATT BLUE
LABATT BLUE LIGHT
BUDWEISER
BUD LIGHT
MILLER LITE
COORS LIGHT
CORONA
CORONA LIGHT
MICHELOB ULTRA
MODELO
STELLA
WHITE CLAW
HEINEKEN
GENNY LIGHT
GENNY CREAM ALE
TWISTED TEA
SARANAC ROOT BEER