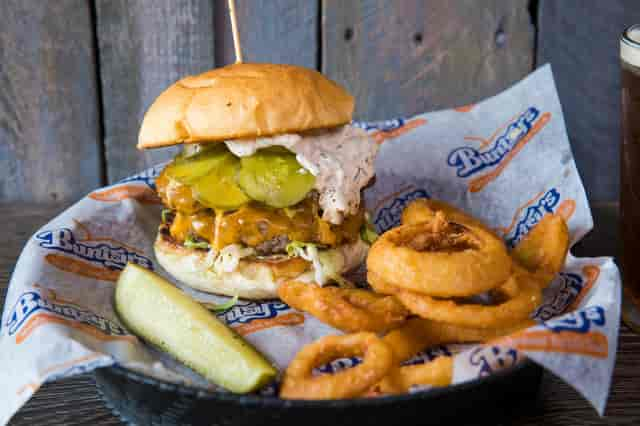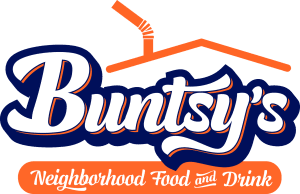 Welcome to Buntsy's Neighborhood food and drink
Webster's favorite Family Sports Bar and Live Entertainment Venue
Welcome to Buntsy's
Proudly serving Webster, NY delicious food with incredible service. To learn more about our story and dedication to serve our community click here:
Follow Us
Receive updates on special events, new menu items, menu reviews, and more!
Menu
Milkshakes
MINOR LEAGUE/MAJOR LEAGUE
Chicken Wings
SERVED WITH CARROTS AND CELERY AND BLUE CHEESE DRESSING 
EXTRA CARROTS AND CELERY 
EXTRA DRESSING
ADD AN ADDITIONAL FLAVOR 
REQUEST ALL DRUMS OR FLATS
Salads
ALL SALADS COME TOSSED IN DRESSING

DRESSINGS: BALSAMIC-DIJON VINAIGRETTE, HONEY LEMON VINAIGRETTE, CREAMY BLUE CHEESE, BUTTERMILK RANCH, LEMON DILL VINAIGRETTE, HOUSEMADE CAESAR

ADD ONS:
8OZ GRILLED SALMON $9.99
CRISPY CHICKEN $3.99
MARINATED GRILLED CHICKEN $3.99
3 GRILLED JUMBO SHRIMP $6.99
8OZ GRILLED HANGER STEAK $6.99
Sandwiches
ALL SANDWICHES SERVED WITH FRIES OR MAC SALAD
Burgers
All sandwiches are served with fries or mac salad.
Served on a Marticello roll with lettuce, tomato and
onion available upon request. 
Sub any side for 1.99
Sub grilled chicken breast or a veggie burger.

Gluten Free rolls are available!
Quesadilla
ALL STUFFED WITH MONTEREY JACK CHEESE AND IN A CRISP FLOUR TORTILLA WITH SALSA AND SOUR CREAM ON THE SIDE
Buntsy's Neighborhood Food and Drink
2235 Empire Blvd.
Webster, NY 14580

Hours
Monday - Thursday:
4:00 pm - 11:00 pm
Friday - Saturday:
4:00 pm - 12:00 am
Sunday:
4:00 pm - 10:00 pm